Portable Intelligent Charging | Chargy St-i5
The most advanced charging station in the market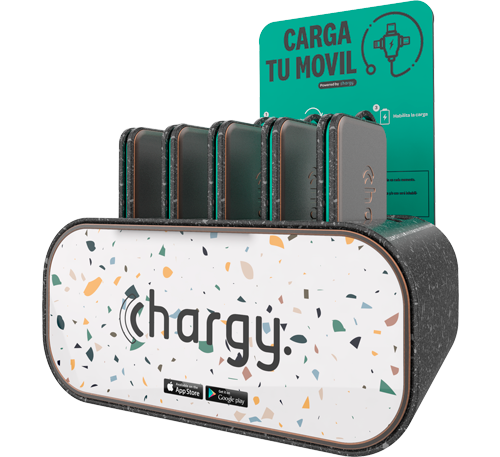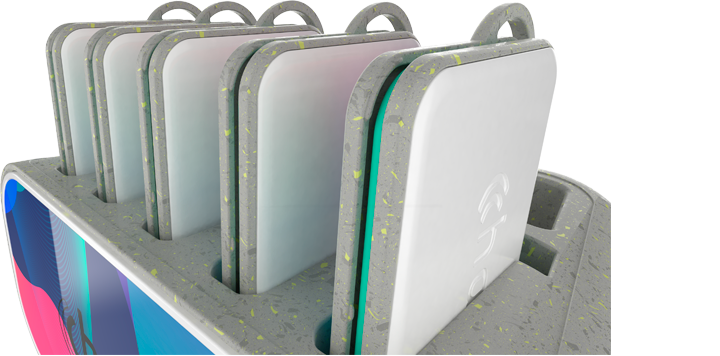 Chargy ST-i5
The Chargy ST-i5 is an innovative charging station that includes 5 iPowerbanks of 3,000 mAh with a 3in1 connector (USB-C, Lightning and Micro-USB) that allows to recharge any type of Smartphone or 5V electronic device in a portable way.
The iPowerbanks work with Bluetooth connection, so that these devices are perfect to install in any place. The charging process is activated through our App by scanning the QR code of each iPowerbank. It is a product designed and manufactured in Spain.
Why choose our portable chargers?
Geolocation

We have incorporated an advanced communication module that allows you to know the exact location where the charging station has been installed, anywhere in the world, as soon as you plug it in and turn it on.

Indoor tracking

Our iPowerbanks allows you to record the path that a user has taken along the surface inside the establishment. It is possible thanks to the installation of beacons at certain strategic points inside de location.

Remote monitoring

Through our dashboard our customers can control if the iPowerbanks are deposited in the charging base, what is their battery level, know possible failures, among many other things.

Customization

Our devices are easily customizable with the image of any brand. We will provide a template so that each client can give us its design, or it can be done by our design team.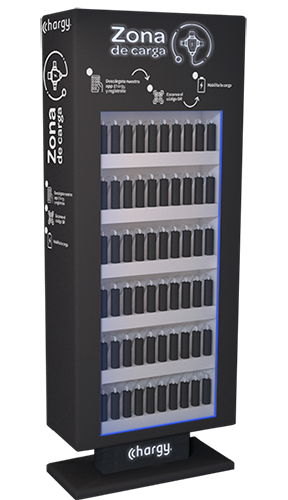 Chargy ST-i60
We have a solution to install in events and large areas such as shopping centers, airports, sports stadiums, among others. It is a fully customizable furniture composed of 60 iPowerbanks. It is a product designed and manufactured in Spain.
Ask for more information
Ask for more information. Request more information. Call or write us to know all our models of induction chargers, we will answer you immediately: +34 910 882 236 / info@chargy.com